For Patients and Families
We respect your wishes and your way of life when we are invited into your home and when discussing your illness, meeting you where you are in your journey.
| Who is Eligible | Who pays for care | Our Services |
Our Hospice Team works with patients and their families to create a customized plan of care that is unique to you.
OUR HOSPICE TEAM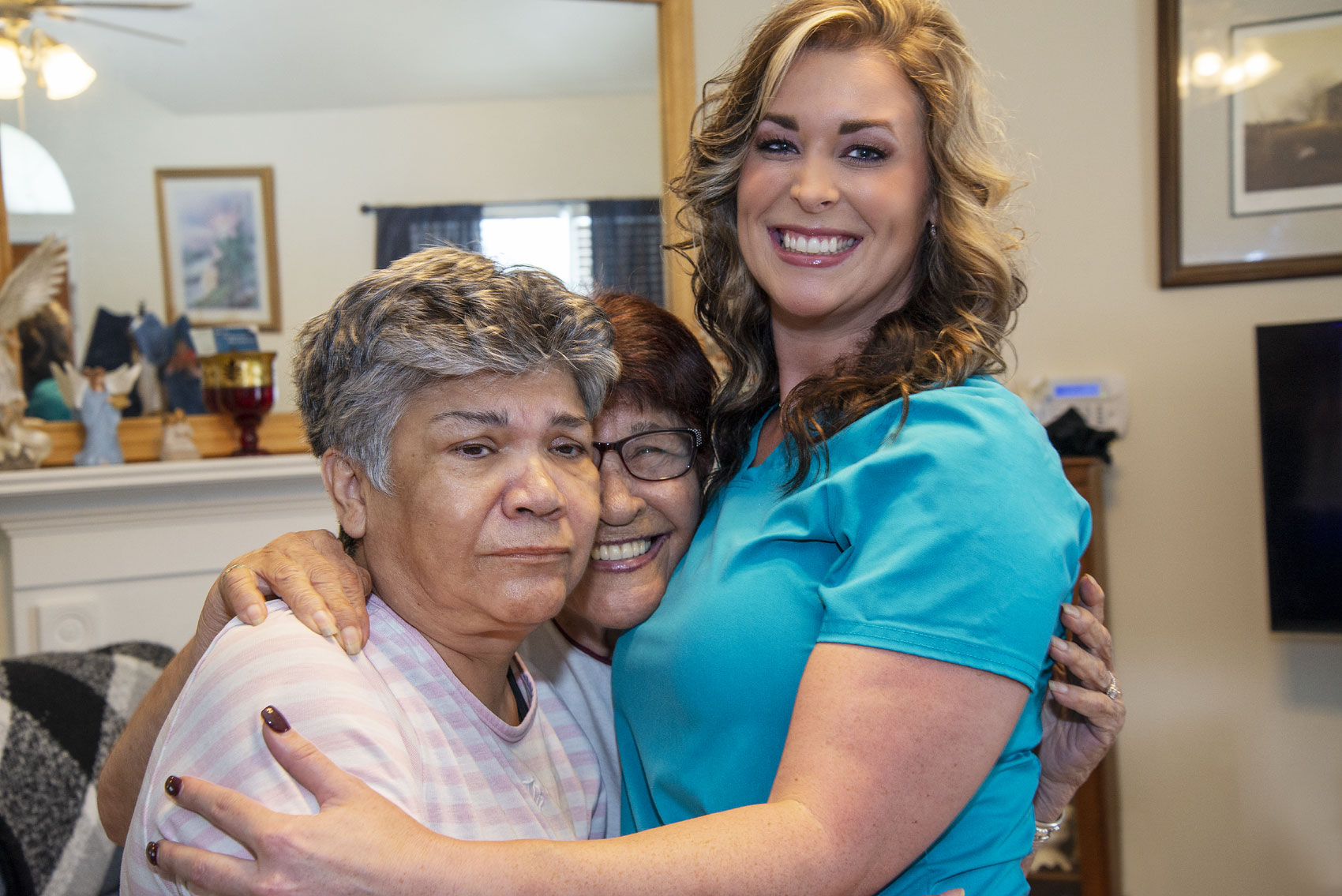 OUR HOSPICE TEAM
Hospice Physician – our hospice medical director works with your attending physician or our hospice physician to develop a care plan tailored to meet your needs.  Our physicians regularly meet with your care team to monitor your care and are also available to make home visits.
Nurse – Your nurse Case Manager will supervise your home team to ensure your comfort.  Our nurses work in collaboration with you, your caregivers and your attending physician to answer questions, manage your medications and to oversee the overall care you are receiving.
Hospice Aide – Our certified hospice aides assist patients with activities of daily living such as bathing, dressing, grooming, simple nail care and light housekeeping.
Social Worker – Our social workers can help provide emotional support for you and your caregivers and will help connect you with community resources.
Chaplain – Our chaplains are familiar with many faith traditions and offer spiritual support to you and your caregivers.  Chaplains may also coordinate spiritual care with members of your own clergy.
Bereavement Coordinator – Our coordinators provide support to your family and loved ones.
Nurse Practitioners – Our nurse practitioner is available to make house calls to help to collaboratively manage your symptoms with your attending physician and our medical director.
Physical, Occupational and Speech Therapists – Therapists are available to assess and provide physical, occupational and speech therapy as needed.
Volunteers – Trained volunteers are able to provide companionship for you, support for your caregivers, run errands and perform many other helpful tasks for you or your loved ones.
BECOME A VOLUNTEER
Who pays for Care?
Hospice is paid for by Medicare part B, Medicaid and most private insurance plans.
Where is hospice care provided?
Hospice cares for patients at home, in assisted living facilities, in nursing homes and in a variety of inpatient settings, depending on the level of care required to effectively manage symptoms.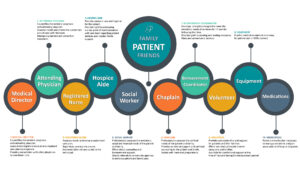 There are 4 levels of hospice care:

– Routine Homecare allows our team members to visit you in the comfort of your own home as often as necessary to ensure your comfort.

– Respite care at The Sanctuary, our beautiful facility in uptown New Orleans, allows caregivers time of rest by housing your loved one for up to 5 days per month.

– General inpatient care allows patients in crisis to receive short-term round-the-clock care at our state of the art facility until symptoms are managed and the patient can return home.

– Continuous Care allows a patient in crisis to remain at home while receiving inpatient level of care for brief periods of time around the clock.
MYTHS & FACTS
MYTHS and FACTS
Misconceptions about hospice care can sometimes cause anxiety, creating obstacles to a patient electing care.   We believe education and transparency empowers patients and their families as important care decisions are made.  Have more questions?  Contact us
MYTH: "I'm just not ready for hospice yet."

TRUTH:  Being ready isn't a requirement to receive the medical care and emotional support you are entitled to. Think of hospice care this way:
Are you ready to be comfortable?
Are you ready for you and your family to have the practical and emotional support you may need?
Are you ready to allow a team of medical professionals support you wherever you want to live?
MYTH:  "Electing hospice means I've given up."

TRUTH:  You don't have to give up hope to receive hospice care.  We will meet you where you are and will help you establish goals of care as you define them.
Electing hospice care earlier in your eligibility allows patients to meaningfully benefit from the services, giving you more control in establishing a care routine with familiar medical support.
Most families tell us they wish they had chosen to use hospice care sooner.
MYTH:  "Hospice will take away my medicines."

TRUTH:  Comfort medications will not be taken away from you.  As a matter of fact, your existing medications may be covered by the hospice benefit and more may be added, as needed.  Your hospice care team will review your medications with you to ensure they are still effectively managing your symptoms and all medications in your plan of care will be delivered to your home.
MYTH:  "Hospice will only sedate me but I want to enjoy my life."

TRUTH:  Passages Hospice values your life and how you want to live it.  Our goal is to provide as much physical, emotional and spiritual comfort as possible so that you may enjoy your time with friends and family.  Hospice care enhances a patient's quality of life and may even extend a patient's time by controlling debilitating symptoms.
MYTH:  "Hospice will not allow me to see my doctors."

TRUTH:  You may choose your own doctor or our hospice physician to manage your care when you elect to use your hospice benefit.
MYTH:  "Hospice is a place."

TRUTH:  Hospice is a philosophy of care focused on your comfort and changing needs as your disease progresses.  Hospice care may take place in your home, in a nursing home or an assisted living community or in a variety of inpatient settings.  Our goal is to keep you comfortable wherever you may call home.
| GIP partnerships | Sanctuary photos |
MYTH:  "Hospice is for for cancer patients."

TRUTH:  Hospice care is available to individuals who are experiencing a decline due to a terminal illness diagnosis or a combination of several disease processes.  Diagnosed conditions may include, but are not limited to, heart disease, COPD, Alzheimer's Disease, ALS or other neurological diseases and cancer.
MYTH:  "Hospice will make me give up my treatments."

TRUTH:  While some curative treatments may not be covered by the benefit, hospice allows some palliative or comfort treatments to alleviate discomfort caused by advancing illness.  Physical therapy, IV therapies and other services may be discussed during your initial assessment to clarify your goals of treatment and how they may be integrated into your hospice plan of care.
MYTH:  "Medicare only pays for 6 months of hospice care."

TRUTH:  Individuals are eligible for hospice care as long as the attending physician and the hospice medical director certify that a patient's condition is terminal with an estimated life-expectancy of 6 months or less.  This time is an estimation determined by your physician if the illness follows it's natural course.
Functional declines and increasing symptom management are documented as evidence of disease progression.  418.22
MYTH:  "Hospice will make me sign a Do Not Resuscitate order (DNR)."

TRUTH:  While it is never too soon to discuss your end-of-life wishes with your loved ones, you do not have to sign Advance Directives, a living will or a DNR in order to receive home hospice care.  Our interdisciplinary team will discuss these choices with you and will honor your wishes.  We can provide support and valuable educational resources when you are ready to make these decisions.