Chris McMahon, CEO, founded Passages Hospice following a deeply personal experience with hospice while caring for his own family.  His mission began with the 2012 construction of The Sanctuary, a beautiful stand-alone inpatient unit on the banks of the Mississippi River.  This state of the art facility allows patients in crisis to receive short-term round the clock care until their symptoms are managed and they are able to return to their home setting.  This unit is also a home away from home for patients who are stable but whose families need a break for up to 5 days.
Our seasoned team has humbly served over 300 years among us in hospice care.  Whether you are being cared for in an inpatient setting or wherever you call home, our interdisciplinary team focuses on the goals of our patients and families while promoting a collaborative approach to care.
LEARN MORE HERE
Serving Louisiana Residents
Passages HOSPICE utilizes an entire team of skilled professionals who value life, and provide comprehensive care for each patient's individual needs.
For many seriously ill patients, hospice and palliative care offers a more dignified and comfortable alternative to spending your final months in the impersonal environment of a hospital.
* Hospice care is completely covered by Medicare and most private insurances.
VISIT PORTFOLIO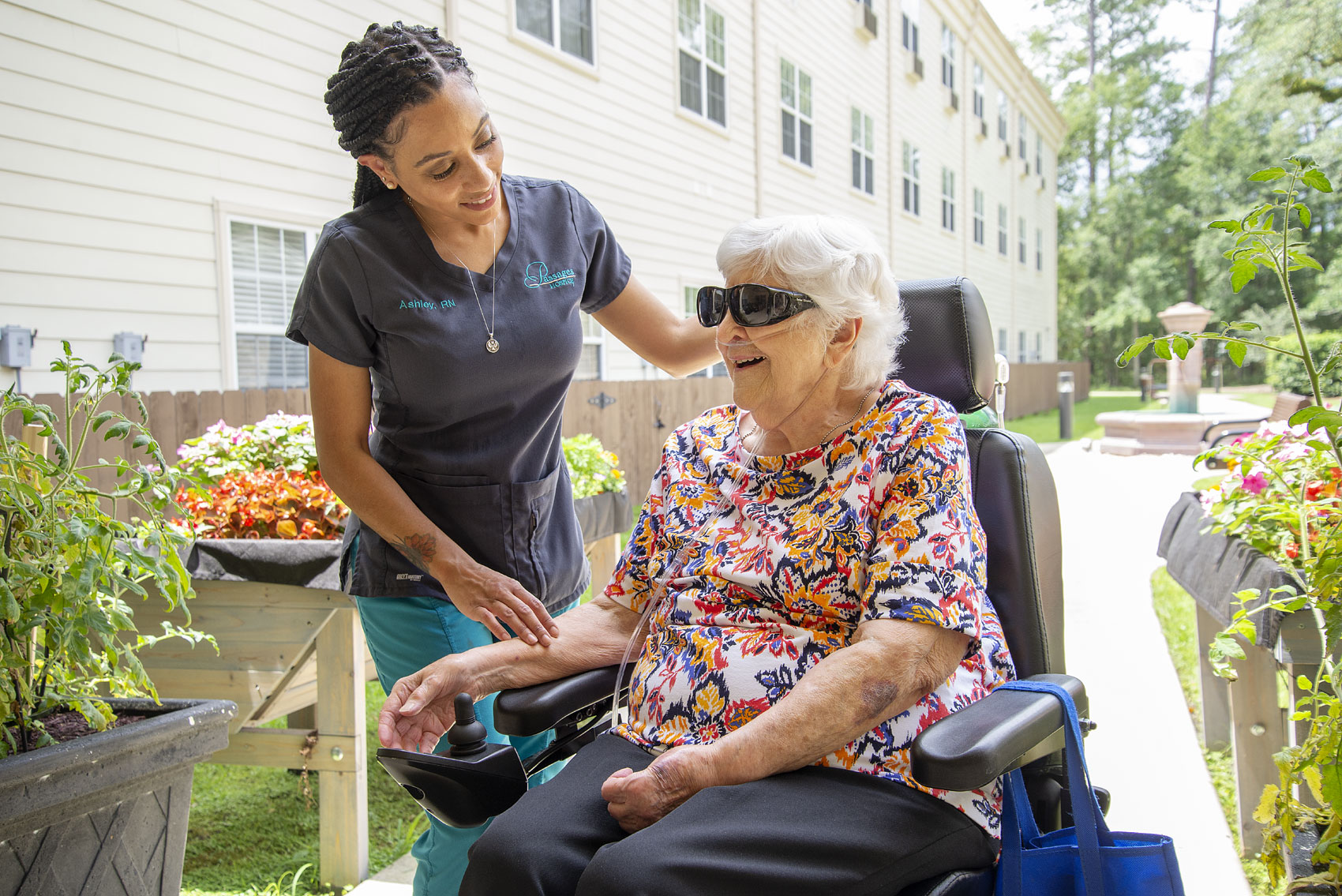 STAFF PROFESSIONALS
Our Passages leadership team combines well over 100 years of healthcare industry experience with a passion for providing exceptional end-of-life care to our community – neighbors and families just like our own.   Passages entire team understands that each patient's experience, and the experiences of their family, should be deeply personal and meaningful.  Thank you for welcoming us into your home and allowing our team to offer the highest quality of care during a very challenging time in your story.
MORE ABOUT PASSAGES HOSPICE
Our facility is limited to 16 beds, because we understand how important it is for your family to experience the intimacy of a home-like setting while still benefitting from round-the-clock nursing and physician care.  Our state of the art facility is a sacred space.  We've invested much energy and attention to detail  into ensuring that your family experience is peaceful and that your loved one's needs are met with empathy, respect and grace.
We feel that offering our families the space to gather, share stories, tears and laughter is a vital part of your experience with hospice care.  Each room holds an extra bed for a caregiver so that you never have to leave your loved one's side during their stay with us.  Visitors are allowed anytime, day or night, and we provide delicious catered meals that remind our families of home.  Children and beloved pets are always welcome to cuddle with our patients.  The intimate atmosphere of the sanctuary at Passages will allow you to become familiar with our team on duty the first day of your stay.
Let us serve you.  Allow us the privilege of supporting your family and providing all your loved one's medical care so that you can focus on what's important – holding hands with the ones we love, sharing stories of their great adventures and being fully present during their journey.
OUR TOOLS – Collaboration, Education, Communication and Experience are key to Passages providing exceptional care throughout your journey.
SERVANT LEADERSHIP – Listening, Empathy, Healing, Awareness, Stewardship.
OUR LOCATIONS – View our interactive map of 5 Louisiana Locations. | MAPS |
FOUNDATION – the Passages Foundation is a 501©(3) funded through the generous community contributions.  The Foundation enhances the end-of-life experience by fulfilling final wishes, offering limited assistance to assisting individuals in need of financial support and building awareness of hospice and palliative care education in our communities. 
| DONATE TODAY |

Volunteer
Volunteers provide support to patients and families through direct care or administrative duties. Your gift of time, compassion and small kindnesses allow patients and their families to experience grace during a very difficult time in their lives.  Volunteers enrich a family's experience and your passions strengthens our community.
| Be a  Volunteer |
Careers
Exceptional team care leads to excellent patient and family care.   Join us in our mission!
Questions?
We're here to answer any question you may have.  All inquiries are encouraged so that we may gain insight and best meet the needs of our community.
| Contact us |